It was hard getting anything done on Tuesday, Bueatiful high pressure - the mountains were calling, but I didnt act on it. A evening hike up Brid ridge with Dan confirmed that I did indeed need to get out for a full day next chance I got.
Woke up, same bueatiful weather, pounded coffee, cereal and emails and out the door I went.
Word in the Chugach was that
Korohusk
Was in good shape, and I fully intended to poach Billy et. al's beta and boot pack. Got a late start, leaving the parking lot at 9:30, unheard of for a big peak in the Eagle River valley. oh well, I'm not going to have to break trail at least... so I thought.
Korohusk from the River: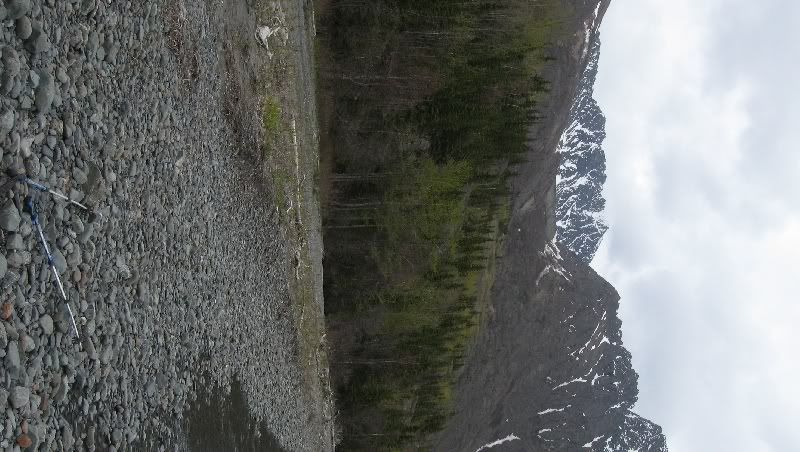 Finding the game trail up to the Dishwater valley wasnt too easy, so I just started the bushwack.. all peaks in the valley worth their height begin with a good schwackin' and so it was: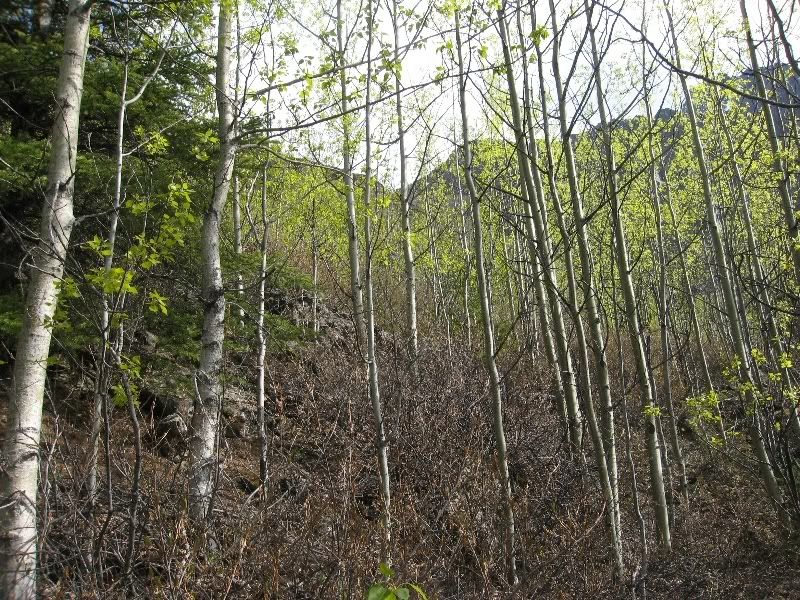 after an hour of easy schwacking I found the real trail higher up, which was a big improvement, despite the huge piles of black bear poop, always a fun thing to see when you're alone with no pepper spray. The views were jaw dropping...
So I only brought one quart of water with me which I had already finished post-coffee. I was sure that I would hit dishwater creek which drains the hanging valley above... I was counting on this as I was already getting dehydrated in the warm sun and steep climb through the trees. next thing I know I'm on snow, no creek in sight, no water it would be, let the snow eating commence! yum! Slowly I worked my way up the moraine and up to the lower fan of the route.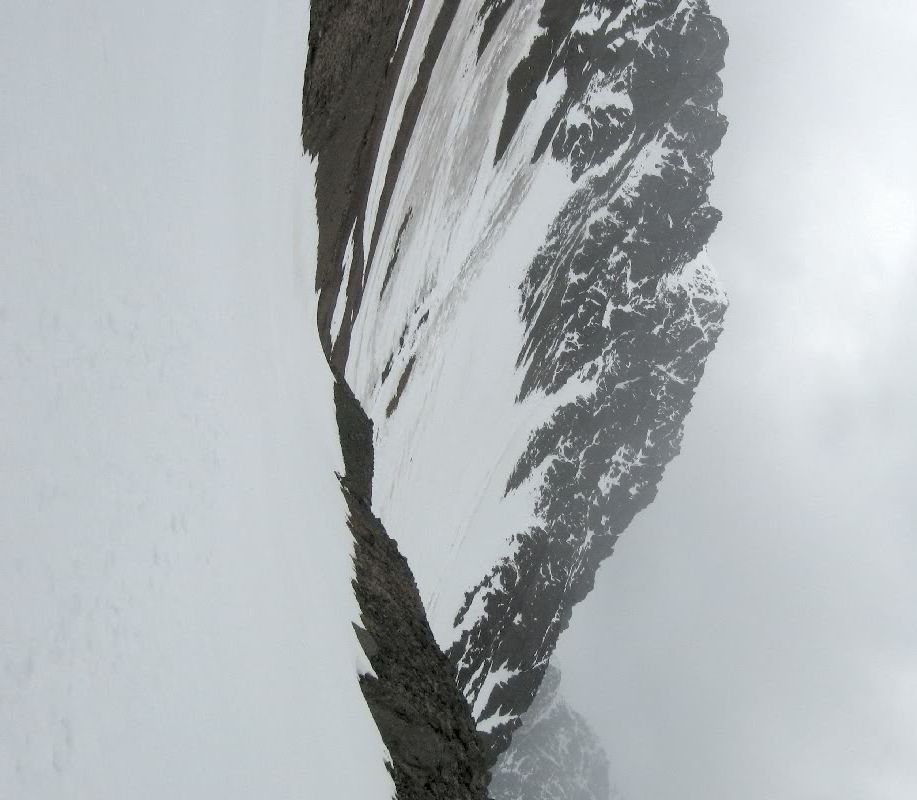 The snow eating helped me get higher and higher, I also decided to loose my empty water bottle so I wouldent be tempted to fill it later:
Eagle Peak is the big one in the middle and
Flute
is just to the left of it in the back.
The weather was fickle, it was warm, but snowing horizontal.. and blue sky all around. I was just climbing into a big dark grey cloud. oh well.. Also snow conditions had changed dramatically since the weekend when Billy's crew was here, the lower snow much softer, and up higher fresh snow had totally filled in their steps. No poaching for me.
Summit ridge after 6,000' of up:
Neoprene socks, trail runners and Aluminum crampons - Light is kinda right - sometimes.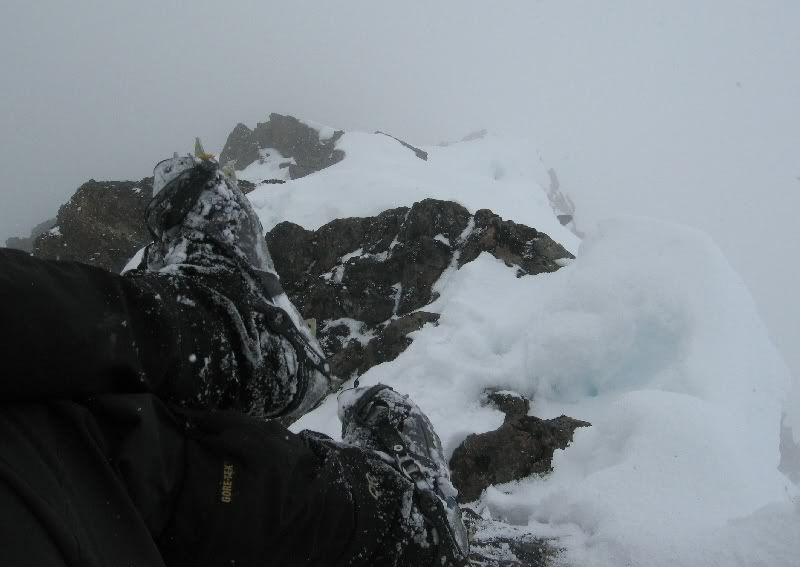 made it down supppper fast, world class 2,000' vert glissade included. Lots more snow eating and a king size snickers later it was back to summertime.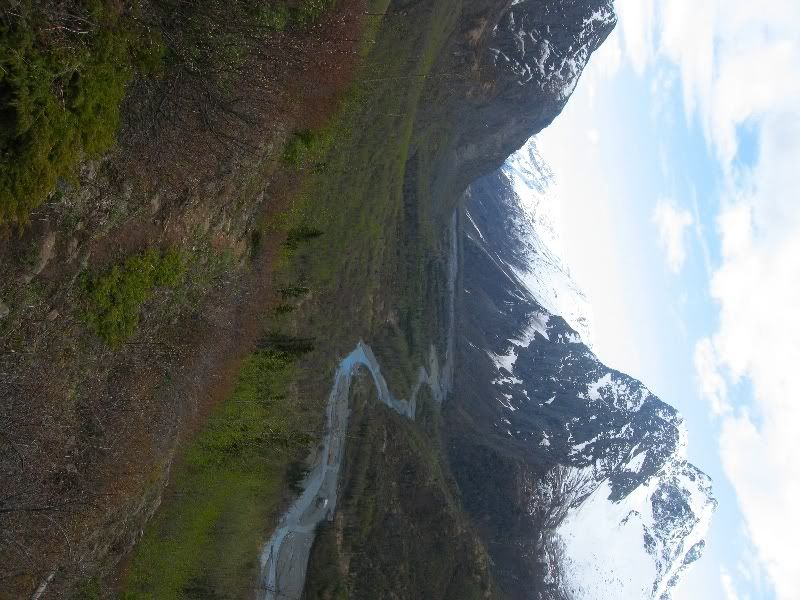 9 hrs, and a big 7,000' peak, pretty good for a late start and no water.
oh, and finally saw this bear molesting the garbage can as I was driving away. he was cute.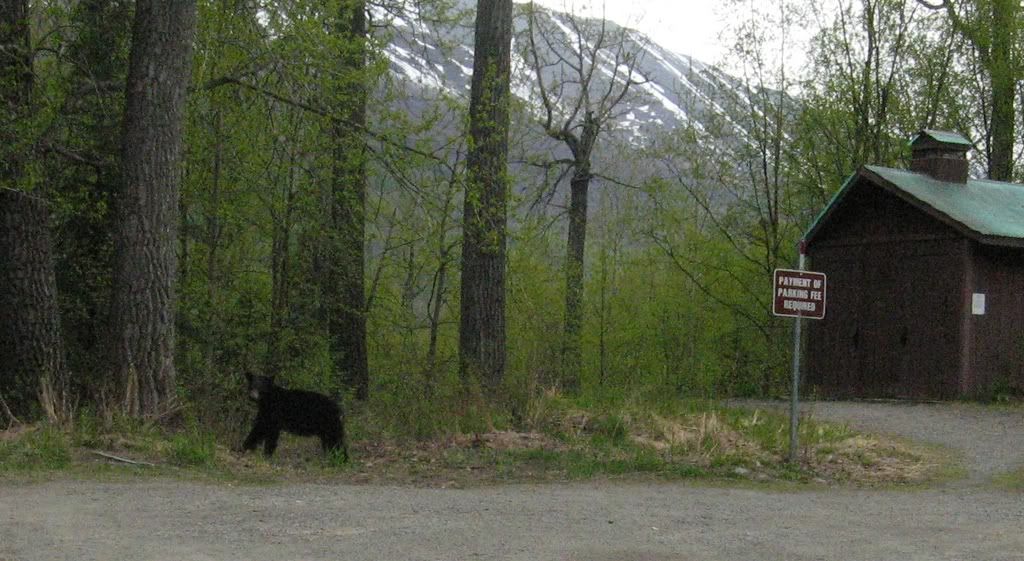 This time lapse was shot using a tiny goPro helmet cam, the cameras are sweet, the company hooked me up with some for packrafting film projects. They have a still shooting mode with an intervelometer function. It is by far the lightest and most idoit proof helmet cam, and also time lapse photography, setup there is:
Untitled
from
Eric Parsons
on
Vimeo
.