"Alpine hot line calling - which couloir in the high Chugach will you be climbing this weekend?" was Billy's voice mail. With a quick call back, weather check and all reason thrown out the window, it was decided for a one day climb up Flute.
Flute has been haunting and heckling me for some time now. It greets me everytime I head back to the Flute glacier.
Last may
I got to within 50' of the summit by by myself before having to turn around due to the exposure on the last rock section. Then Dan and I tried it a few weeks ago, only to get stormed away with out ever seeing the peak.
Stars aligned and we headed in under thick fog and cloud cover, with the anticipation (and fingers crossed forecast) that it would burn off.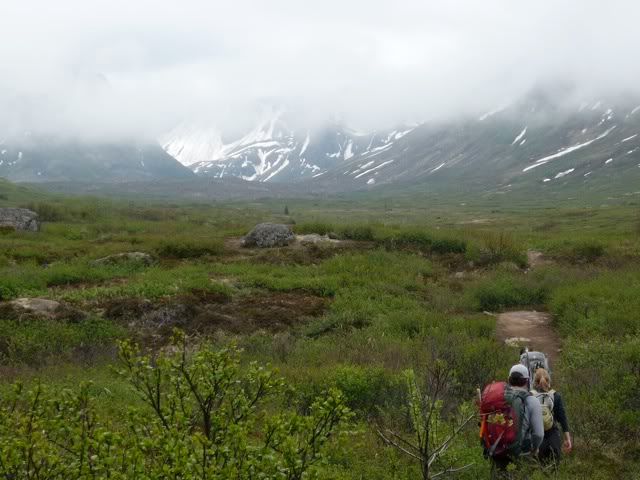 Julie and Luz left us at Eagle lake and Billy Yvonne and I kept heading back the valley to the first step. The fog and cloud band was just sitting up there, so up we went into it..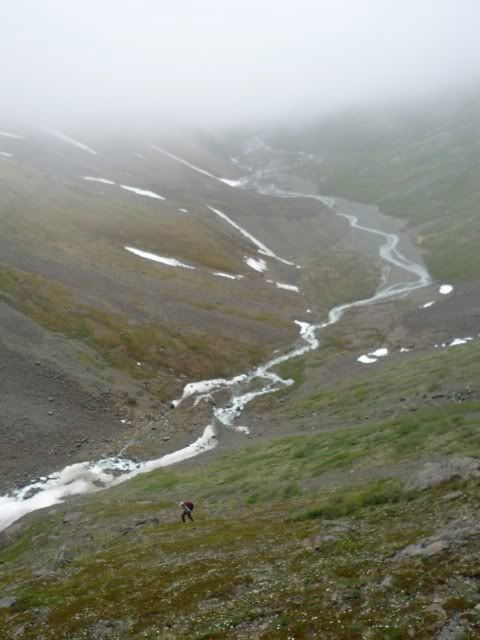 Now it got interesting and our moral was starting to drop, making our way to the glacier we did a complete 360 totally disorientated in the fog.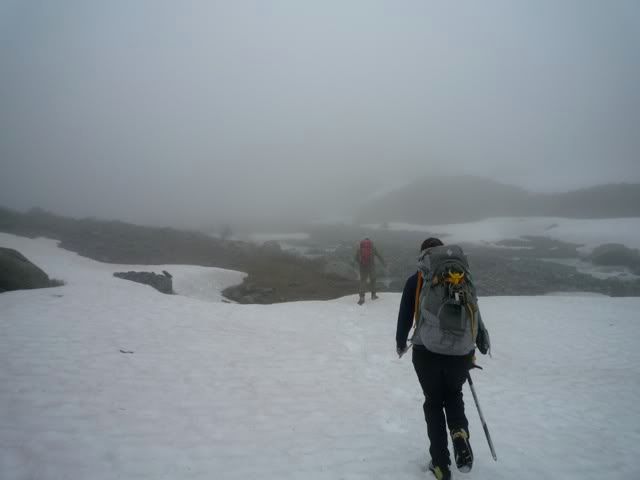 Finally we headed up the steeper snow ramp and popped up onto the bench at the toe of the glacier, just as we did that the sky got super bright and we emerged into a big sucker hole - za zing- hell yeah!
a quick snack and up the left side we went, immediately the fog socked in again and visibility was dropped to 50' "it will burn off..." then it parted again just as we needed it too so we could find our route over the pass to the Organ glacier. Here we left the fog & clouds behind for good.
Over the pass and down to the Organ Glacier and our first view of the climb ahead of us. Basically up the right side of the snow, crossing the bergschrund ( a particularly nasty German Crevasse) angling up and left.
It was hot! softer snow slogging up the Organ glacier..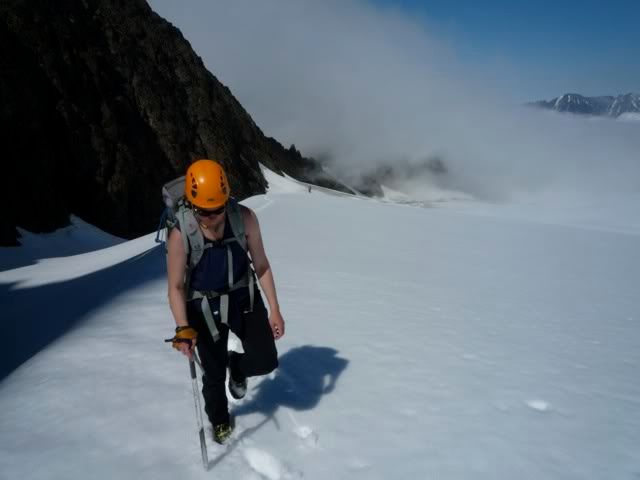 Finally back in the shade and up the Couloir.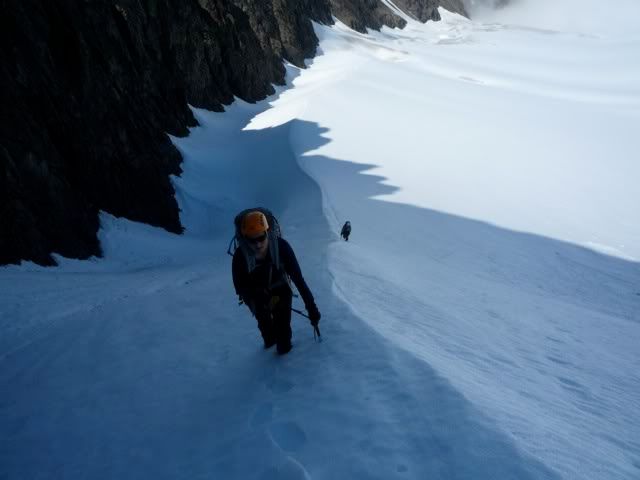 at the saddle,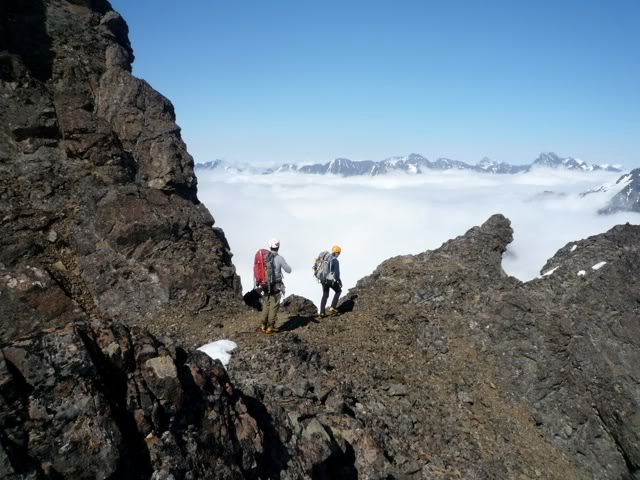 Now for the rock section. The other time I was up here it was pasted with a bit of ice and just felt much more serious. Wearing plastic boots and crampons didnt help any. So with a rope and we cruised up the pitch placing a cam for protection on the crappy crumbling rock.
ze summit..
It was a good day to do a 6,000' peak, they were the only ones above the clouds!
Yvonne heading down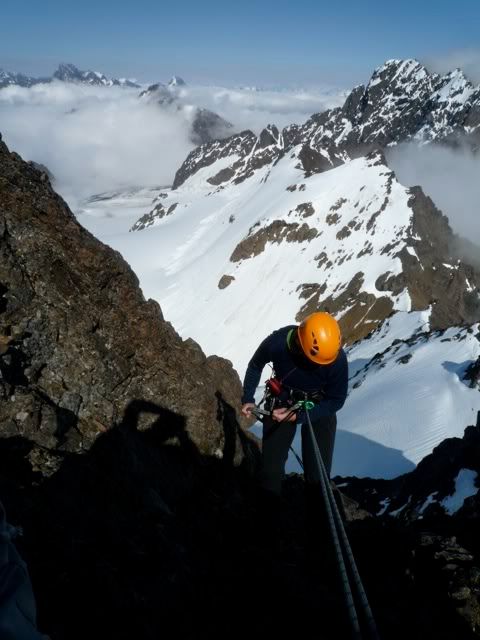 Billy and Yvonne descending the snow.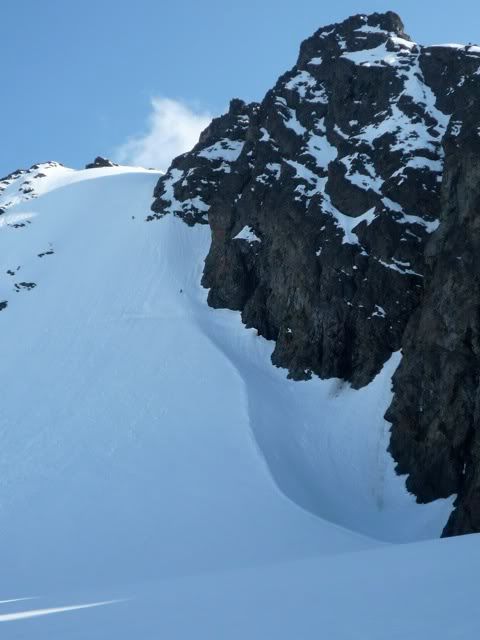 Down the Organ...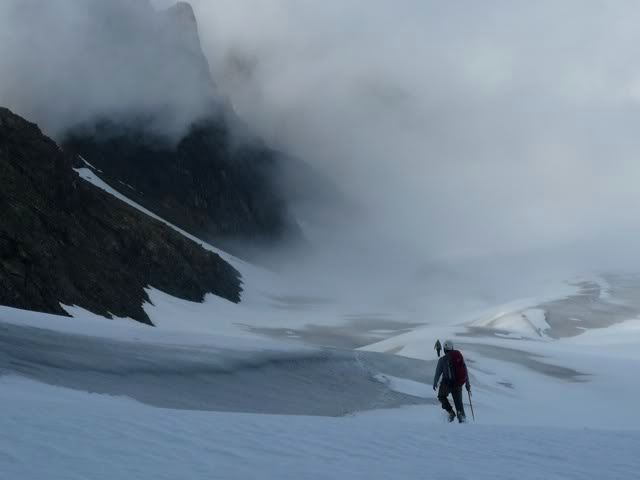 Up over the pass, down the flute and back to the world of Green...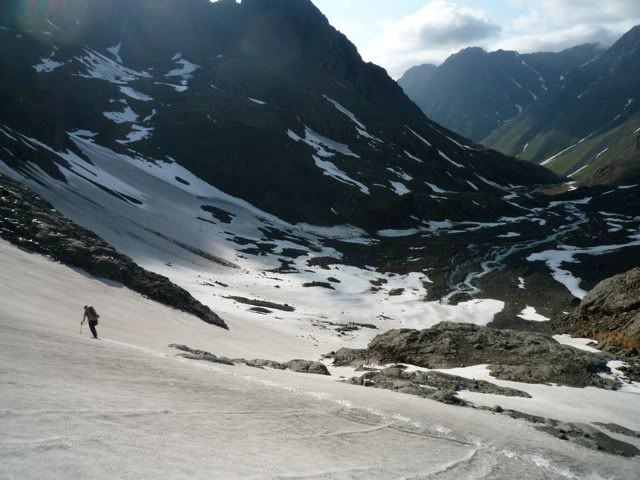 15 hrs, 22 miles and 6,500 vert later we got back to the truck thoroughly thrashed.
A good day to call the Alpine hotline!