I need to find a new place to live.. our landlord got the concrete saw going downstairs today... the emissions raised the CO2 levels to toxic and the alarms went off. All doors and windows open the temp quickly dropped to 10 degrees inside... good excuse to leave and go for a bike ride. Later we even had the fire dept over to test levels again. I hate moving, but looks like it's going to happen again.
On to the ride, I've been fitting in obsessive late night work sessions on this new system for a winter handlebar bag. Last year's bivy buritto worked quite well - light, super simple, tons of compression, explosive and no hardware. But had its drawbacks - too many straps & buckles, and constricting hand space at the pogies.
So this should solve most of those problems. Its still a work in progress for sure, A bigger & longer stuff sack is needed sack than my tent one along with finishing the middle wing / pocket. Then the real testing begins. It worked great though in its un-finished state, better than the old version for sure. One of the other big differences is that the pad and sleeping bag are separate.
Not much sun this time of year, gotta get it when you can...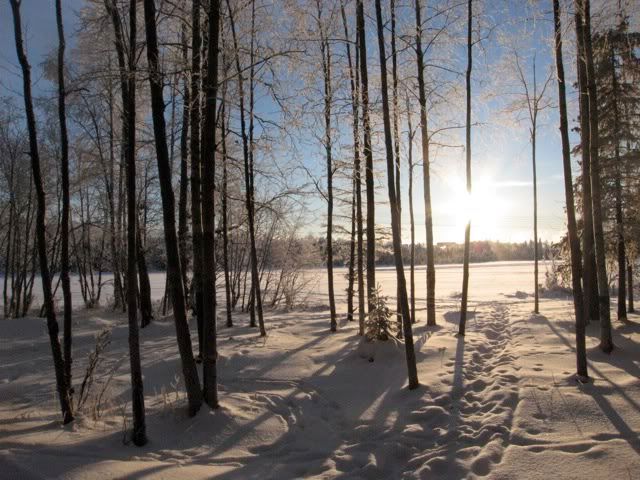 Also on their virgin outing were a pair of RBH designs high rise
socks
I saw these a few weeks ago after re-visiting the RBH site and quickly ordered a pair. It basically combines the setup I was using for cold biking into one sock. I was using a smartwool liner, then integral designs VB, then a loose fitting power stretch fleece sock. The RBH sock is really nice, and the height comes up over the top of my mutant sorel liner / Neos setup. The main problems with my old setup was that the vb would bunch up, and the insulating sock would slide down when walking. So this solves all that and is more comfey. On the 3 hr ride my feet were roasting with that VB dampness, but felt really good, didnt have the plastic bag feel that you get using the integral designs VB's. Need a good cold snap again for a better test but I'm thinking they are a winner for sure, its an amazing fabric laminate.